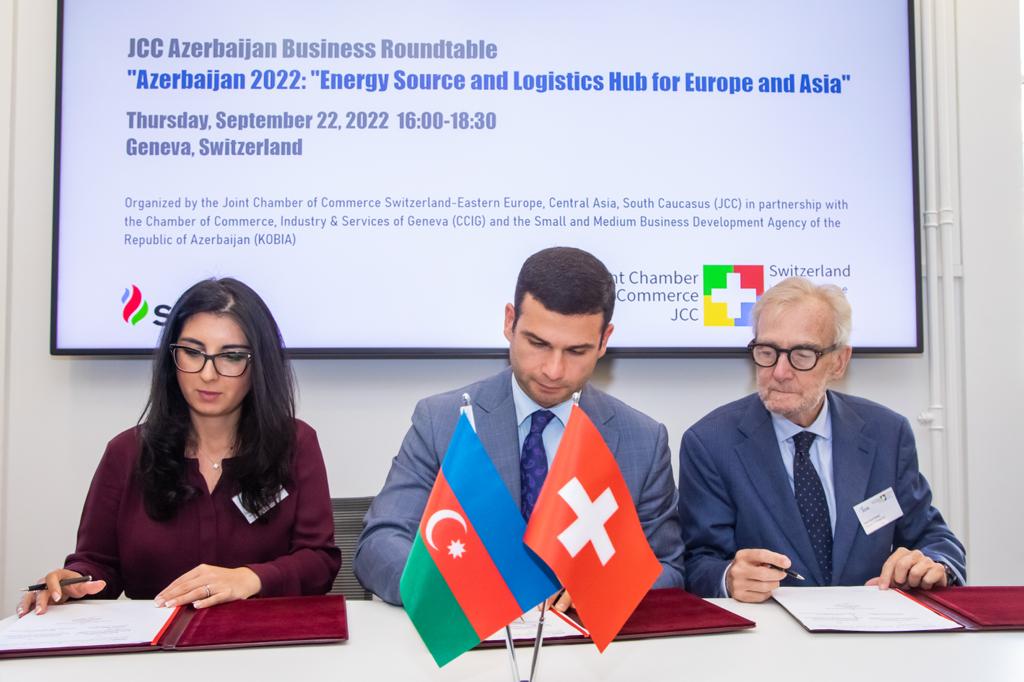 JCC inks MoU with KOBIA at Azerbaijan Business Roundtable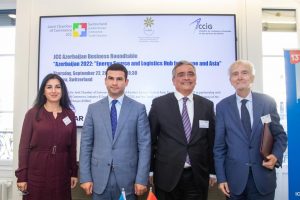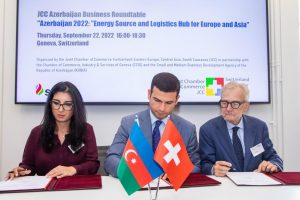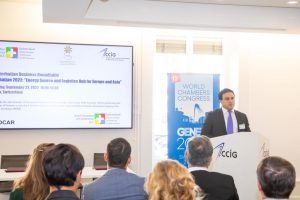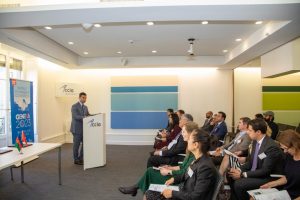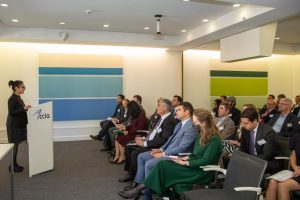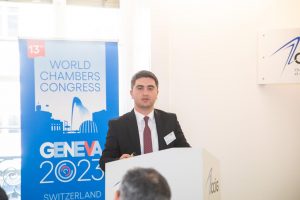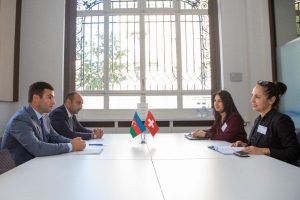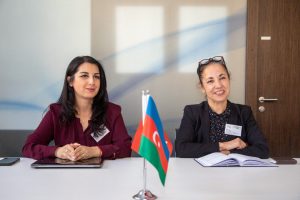 JCC continued its program to promote bilateral trade and investment between Switzerland and Azerbaijan at its latest business roundtable "Azerbaijan 2022: Energy Source and Logistics Hub for Europe and Asia" on September 22, 2022. The event which took place at the Geneva Chamber of Commerce, Industry and Services (CCIG) was held on the occasion of a visit by a delegation from the SME Development Agency of Azerbaijan – KOBIA. The program, moderated by Leyla Baghirzade, Head, JCC Azerbaijan Chapter and CEO, Swiss Alternative Financing SAFAG, began with welcomes from  Nathalie Hardyn, Director, General Geneva Chamber of Commerce, Industry and Services (CCIG) and Dorit Sallis, Managing Director, Joint Chamber of Commerce Switzerland-Eastern Europe, Central Asia, South Caucasus (JCC). Orkhan Mammadov, Chairman of the Management Board; SME Development Agency of the Republic of Azerbaijan KOBIA presented his organization and the importance of strengthening bilateral links with SMEs which are the economic backbone of both Azerbaijan and Switzerland.
H.E. Mr. Fuad Isgandarov, Ambassador of the Republic of Azerbaijan to Switzerland highlighted the need to build business bridges, especially, in the current geopolitical situation. Bilateral Relations between Switzerland and Azerbaijan Seraina Sigron, Desk Officer, South Caucasus, Russia, Belarus, Turkmenistan, Uzbekistan,Sweden and Cyprus, Bilateral Economic Relations – Europe and Central Asia, State Secretariat for Economic Affairs State Secretariat for Economic Affairs SECO examined bilateral relations between Switzerland and Azerbaijan. Investment Opportunities and Support Mechanisms for SMEs in Azerbaijan were showcased by Ramil Hashimov, Deputy Director, International Relations and Event Management, AZPROMO and Amir Shirinbayli, Head of International Cooperation Division, KOBIA. Taghi Taghi-Zada, Co-Head of Global Physical Trading, SOCAR Trading presented Azerbaijan's energy sector and the work of SOCAR in building it up. Nikolaus Kohler, Regional Managing Director Middle East / Central Asia, Business Development Switzerland analyzed Azerbaijan as the Logistics Hub of the Trans-Caucasus Transport Corridor. The roundtable ended with the signing of an MoU between JCC, KOBIA and SAFAG. This was followed by a networking reception sponsored by SOCAR.